6 Ways IoT Creates Competitive Advantage and Risks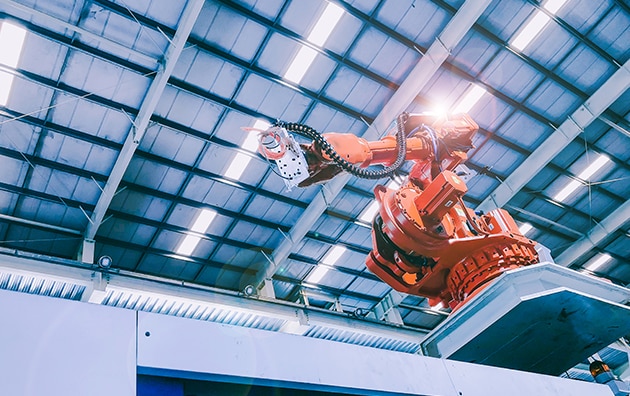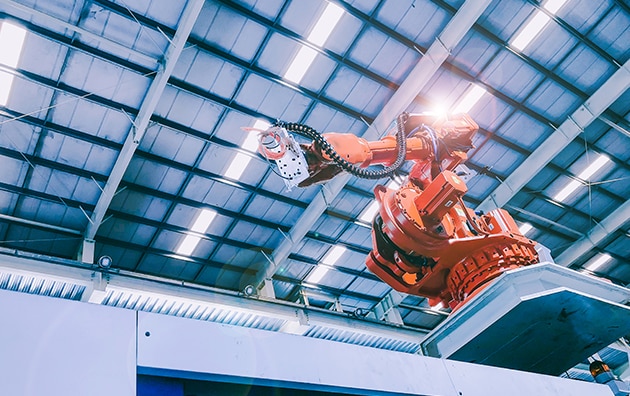 Equipped with Internet of Things (IoT) technology, assembly lines feature collaborative robots performing injection molding, gluing, welding and other manufacturing processes that once seemed impossible to automate. Connected machines share data that can minimize disruptive downtime and safety gear equipped with IoT technology has the potential to reduce employee injuries.
Those are just a few of the competitive advantages that connected manufacturing can provide. Smart technology is changing virtually every aspect of manufacturing. Here is a look at six areas where it provides opportunities, and potential risks.
1. Predictive Maintenance
Rather than waiting for a machine to fail, IoT sensors on a production line can track heat, humidity, vibration, oil viscosity and other data points. Providing alerts in advance allows plant maintenance crews to schedule repairs on production machinery such as CNC machines, lathes and punch presses during planned downtime, instead of in the middle of a production run.
Benefit: Gathering data across entire production lines can provide more accurate guidance on when equipment will need service, saving manufacturers' maintenance costs and downtime, for higher profit margins. Integrated technologies can also help identify problems before they ripple through the entire production process.
Risk: As sensor technology evolves, its reliability may not be proven. When a sensor malfunctions and fails to trigger a maintenance warning, it can compromise the quality of the finished product. For example, a metals manufacturing facility could find that hundreds of cases of finished metal brackets would need to be scrapped if a sensor failed to detect an out-of-tolerance condition.
2. Inventory and Supply Chain Management
IoT devices allow manufacturers to track parts and supplies on a global scale, in real time. Using Radio Frequency Identification (RFID) tags on parts or shipping containers can alert manufacturers when necessary components will arrive. The technology can help manufacturers manage inventory levels, allowing for greater precision and flexibility.
Benefit: Companies can optimize their inventory, which can lead to greater efficiency and visibility across multiple locations. Real-time GPS capability allows them to offer customers increased insight into shipping times and potential delays. Being able to trace finished goods can also help expedite tracking for product recalls.
Risk: A breakdown in tracking technology may hamper a company's efforts to locate and pull products outside of the marketplace using the RFID tags. This could be a problem in the event of a product recall.
3. Quality Control
Removing the human element can allow for more precision and quality control in manufacturing. Digitally integrated software and sensors are used to monitor and control every aspect of the production process. In addition to precision and quality, systems can also monitor environmental conditions, such as temperature and humidity, automatically adjusting equipment to keep production flowing smoothly.
Benefit: Sensors can capture data at a granular level across an entire facility, allowing manufacturers to achieve greater precision in assembly functions that require it, such as in the aerospace and defense industries. This level of integration helps companies to adhere to the strictest manufacturing standards.
Risk: Automation doesn't eliminate the potential for human error. For example, if a plant employee loads the wrong anti-oxidant solution into a machine, it could result in flawed finished products that sensors may not be able to detect. Manufacturers may want to perform a "Failure Mode and Effects Analysis" (FMEA) to anticipate potential things that could go wrong and incorporate additional quality control processes based on the results.
4. Operational Efficiency
Overall Equipment Effectiveness (OEE), the percentage of productive manufacturing time, is a key performance metric that IoT technology allows manufacturers to track. Sensors allow data to be collected and shared across the facility, and beyond. This gives manufacturers greater visibility into trends, such as unplanned downtime on specific machines or production line.
Benefit: By analyzing in-plant performance data, manufacturers can gain insights that they can use to plan capacity, improve performance, reduce energy consumption, increase productivity and reduce costs per piece manufactured. Being transparent with this data may also allow manufacturers to secure contracts that demand specific performance levels.
Risk: If the technology fails, a furniture facility that relies on the data for predictive inventory may fail to meet a production deadline with a key customer if they do not order and receive needed supplies in time.
5. Workforce Safety
IoT is changing the face of employee safety and productivity. Wearable digital technology has the potential to improve employee safety, in addition to increasing productivity and collaboration. By collecting data about workers and their environments, wearable IoT devices provide feedback that can inform decisions, change behavior, teach skills, help prevent injuries and potentially save lives.
Benefit: From robotics that handle repetitive or potentially hazardous tasks to dynamically connected wearable devices that detect hazardous conditions and automatically warn employees or shut down equipment, IoT technology can lead to fewer work-related accidents. This can decrease the costs associated with injury claims and the disruption of scrambling to fill scheduling gaps while injured workers are recovering.
Risk: The incorporation of IoT technology in manufacturing equipment may expose employees to unintended risks. A textiles manufacturer that incorporates IoT technology but fails to recognize and control other hazards such as physical safeguards on equipment could lose a critical employee to injury. Manufacturers will want to involve quality assurance managers, safety managers, employees and maintenance workers in adapting IoT-enabled equipment to help ensure comprehensive safety protection.
6. Customer Insights and Product Innovation
Products equipped with smart sensors can enable manufacturers to track purchase patterns and adjust production volume in real time to meet consumer demand. Elsewhere, wireless sensing devices can collect data on consumer product usage so manufacturers can quickly jump on product innovation opportunities.
Benefit: Customer care is changing in the IoT age. With new data collection and analytics capabilities, manufacturers can adjust existing product features based on customer use, and then market those enhancements for competitive advantage. IoT technology can also make it possible to avoid a costly and inconvenient product service recall if updates can be conducted by wireless means. Manufacturers can also adjust recommended maintenance schedules for equipment based on performance, which can lead to greater customer satisfaction.
Risk: Connected devices do no good if they are not up and running. Not all sensors are created equal, and they have different cyber security capabilities, which product security teams must understand. Sensors that provide continuous uptime reporting should be extremely reliable for optimal performance from a user standpoint and/or the device manufacturer or service provider's informational needs. A medical device manufacturer could face privacy risks if a patient's device is hacked.
IoT can present both high risks and high rewards for manufacturers. Understanding both the opportunities and the potential downsides will help manufacturers, whether they deploy IoT into factory production lines or integrate it into their finished goods.