8 Important Car Maintenance Services Teens and New Drivers Need to Know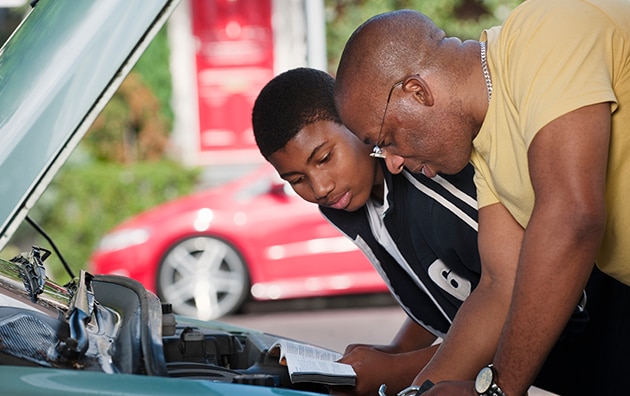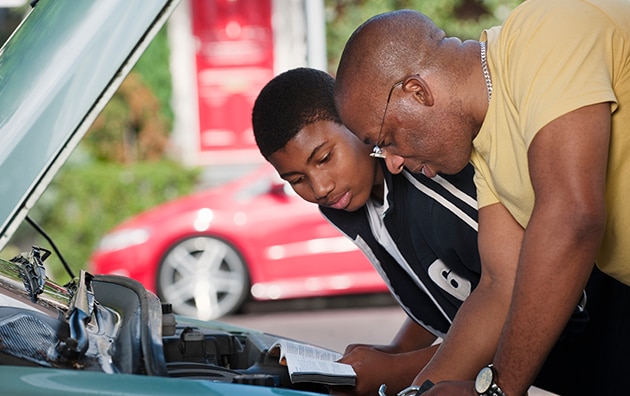 Did you recently get your driver's license or first car? Congratulations! You are now able to enjoy the freedom that comes with driving. But with this freedom comes responsibility such as maintaining your car for safety and keeping it in good working order.
Whether you're a new or experienced driver, here are eight auto components that require regular maintenance to help you keep your vehicle in road-ready condition:
1. Wiper Blades
Windshield wiper blades are an important component of safe driving. When it rains, sleets or snows ‒ or when bugs attack - you must be able to clear your windshield, so that your vision is unobstructed while driving.
Because wiper blades are made from rubber, they eventually wear out. Worn blades leave streaks that are difficult to see through, which can create undue driving difficulties. If you are a new driver, are driving a new car or don't have experience driving in tough conditions, this issue can be especially problematic.
Check your wiper blades periodically and consider replacing them at least once a year depending on local driving conditions, wear and tear, and how much you drive.
Tip: Learn to replace your own blades. Paying a professional may not be necessary for this relatively simple car maintenance task. Many major auto parts stores will replace them for you on site. Keep blades clean by washing them in warm soapy water or washer fluid.
2. Windshield Washer Fluid
On rainy, snowy, icy, dusty or buggy days, the best wiper blades won't help if you don't have the right windshield washer fluid. Pay attention to your fluid warning monitor. Fill the washer fluid tank monthly or when the warning alerts you, and use the appropriate product for the season and for the conditions you drive in. For example, if you expect freezing weather, change to a de-icing formula.
You might also consider applying a water-beading coating to your windshield. It may improve visibility when driving in extreme weather.
Tip: Keep extra washer fluid in your trunk so you're prepared in case you run out during a road trip.
3. Oil
Some new drivers don't realize they have to spend money on … engine oil. That's why they may let the check oil warning light stay on too long, which could eventually result in costly engine damage.
Oil keeps your engine parts moving with minimal friction, but over time, it gets contaminated and must be replaced to keep your engine running smoothly. Having the oil changed by a professional is one of your most important car maintenance chores.
To find out how often you should do this for your car, check your owner's manual. Typically, it's every six months or 5,000 km (whichever comes first), but it can vary depending on the vehicle and oil additives.
Tip: Check your oil level every few gas fill-ups. If it drops quickly, it might be a sign of a bigger issue.
4. Coolant
Have your coolant fluid checked by a professional regularly, as this helps keep your vehicle from overheating. A good practise is to have your coolant fluid level checked when you get the car oil changed. A professional can add more coolant when levels fall too low.
Tip: Understand your car's warning lights - read your car manual. Warning lights alert you to possible car service needs. Do not ignore them.
5. Lights
Headlights and taillights are critical for safety. They help you see at night and in inclement weather. They also alert other drivers when you're turning or stopping.
To ensure that your lights are working properly, safely park your vehicle, turn on your hazard lights and do a walkaround to check your headlights and taillights. Replace bulbs that burn out as soon as possible for safety.
Tip: It's easier to check your lights with a friend or family member.
6. Tires
Your tires have a big impact on vehicle handling, particularly when you're driving in inclement weather or on rough terrain. Checking and maintaining your tires can be a critical component to maintaining safety. Proper tire tread depth and tire inflation are two key components to performance and handling. Checking your tire treads can be done with some spare change. To find the proper tire inflation level, look for the decal on the inside of the driver's door. Monitor tire pressure every two or three gas fill-ups.
Having your tires rotated is also an important car maintenance service. Consider having it done every time your oil is changed. In addition, check the wheel alignment at least once a year. These things can help ensure your car handles at peak performance.
Tip: Learn to change a flat before you have one. It's not something you want to figure out in an emergency. Consider getting an auto club membership or check with your car insurance broker to see if your coverage includes roadside assistance.
7. Brake Pads
Most cars have disc brakes, which use ceramic pads that press against metal discs to stop the car. These pads wear out over time, which impacts braking ability.
Listen carefully for intermittent or steady squeaks or squeals when using your brakes. These sounds typically indicate that your brakes need to be serviced. Also, have your brake pads checked regularly, such as every time your tires are rotated. Change them when your mechanic recommends, as they may no longer be functioning properly.
Tip: Get recommendations and check ratings and reviews before hiring a mechanic to service your car. Be sure to ask for a cost estimate before work is started.
8. Battery
A dead battery can leave you stranded with little or no warning. Be on the lookout for sluggish engine starts as an early sign your battery may be at the end of its life.
Also, there are many things that you may not be aware of that can drain your battery. Even when your car is turned off, it still uses some power from the battery. So, when your engine is off, avoid having your radio, headlights or interior lights on.
Tip: Even the best-maintained cars may break down. Keep an emergency kit in your trunk. Consider including things like first aid supplies, a blanket, a flashlight, roadside flares, a tool kit and other items that might be useful based on your local driving conditions.
Bonus tip: All newer batteries come with a date sticker on the side. Check the date to make sure you are buying a fresh battery.
Other Important Car Maintenance Tips
Do you drive a used or hand-me-down vehicle? Older cars require more monitoring and car servicing than newer models.
Items such as spark plugs, hoses, belts can become problematic after 50,000-60,000 km. Have them checked by a professional. Small problems can lead to engine failure, which might leave you without transportation.
The most important thing to do is follow your car manufacturer's recommended maintenance schedule. If a dashboard warning light does appear, take immediate action by first identifying the meaning of the light. Follow the owner's manual instructions for next steps and consult with a professional mechanic if necessary.
Car insurance coverage is perhaps one of the most important parts of car ownership for new drivers. Contact your broker for a car insurance quote and see if you are eligible to save on your premiums.
Consider enrolling in IntelliDrive. IntelliDrive is a 90-day program that uses a smartphone app to monitor your driving performance. By enrolling, you could save on your car insurance policy's first term. At renewal, safe driving habits can lead to additional savings.